Work Programmes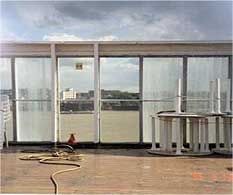 Glass that has become unsightly due to permanent chemical staining or burns (in extreme cases such glass might be considered for replacement) can be renovated & restored in-situ to an almost as new condition.
This is achieved at a fraction of the cost of replacement.
Service work programmes allow a team of MGM engineers to renovate and protect priority areas quickly and effectively. See our service works page for details.
Training programmes give deck crews the knowledge and tools to renovate and protect exterior glazing in-house. See our training page for details.
MGM programmes utilize the Sea-Thru™ non-stick Protective Treatment system. Giving you easier to clean, low maintenance exterior glazing on a long term basis.
Note: All programmes are scheduled and implemented at your chosen destination