Training of the ships crew in the use of the Sea-Thru™ Renovation & Treatment System.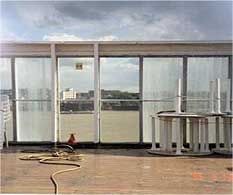 Marine Glass training programmes give in-house deck crews the knowledge and tools that enable large passenger vessels to recover, protect and more effectively maintain all of their exterior glazing on a long term basis, utilizing the Sea-Thru™ Renovation & Treatment System.
Note: Due to great variation in the condition and causes of problem glazing on vessels, each vessel must receive an individual training visit.

Sea-Thru™ non-stick Protective Treatment is progressive. Regular applications result in improved performance and increased durability.
For new glass see our Newbuild page.
'Stained, obscured glass on Lido Decks, in Premium Cabins and major passenger areas undermines passenger enjoyment.'
All Client vessels are trained in-house on an individual basis whilst in service worldwide. Training locations to date include Hawaii, Singapore, Hong Kong, Alaska, Caribbean, Mediterranean, French Polynesia, Baltic etc.