Service Programs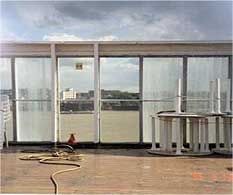 Marine Glass service programmes enable a team of skilled engineers to renovate badly stained/obscured glazing in prestige areas such as restaurant, lido deck or bridge windows.
'MGM engineers have vast knowledge and experience dealing with marine glazing, allowing areas to be completed quickly and effectively to the highest standards.'
Once the glass is restored to an almost as new condition our Sea-Thru™ Protective Treatment is applied.
Sea-Thru™ Polymer No1 used in the protective treatment process forms a chemical bond with the glass producing an invisible non-stick surface, making maintenance routines faster and more economical.
Sea-Thru™ for your deep-sea vessel.
Sea-Thru™ is the worlds leading system for the renovation and protection of glass on deep-sea vessels, improving visibility and safety.

Over the last 10 years our engineers have successfully renovated and treated bridge glazing on a large number of deep-sea shipping and container vessels globally. Proving Sea-Thru™ to have long lasting benefits in harsh conditions.
'MGM engineers have vast knowledge and experience dealing with marine glazing, allowing areas to be completed quickly and effectively to the highest standards.'